Imagine combining your 2 favourite sports in one unforgettable weekend of play…
Imagine a day out where you start out skiing at 3400ms and finish it riding your mountain bike on the beach some 75kms later…
Imagine heading off on a skiing or boarding trip and not having to worry about the snow or weather conditions…
Imagine 75kms of first skiing off-piste then jumping onto your enduro bike and shredding on singletrack all the way to the Mediterranean…
IMAGINE:

SWITCHBACKS Bike & Board
ABOUT
Switchbacks BnB is a long weekend of combined skiing/ boarding and Enduro singletrack mountain biking.
2.5 days of skiing AND 2 days mountain biking from Spain's highest ski resort Prado Llano and the quaint village of Bubion surrounded by some of the best singletrack in the world.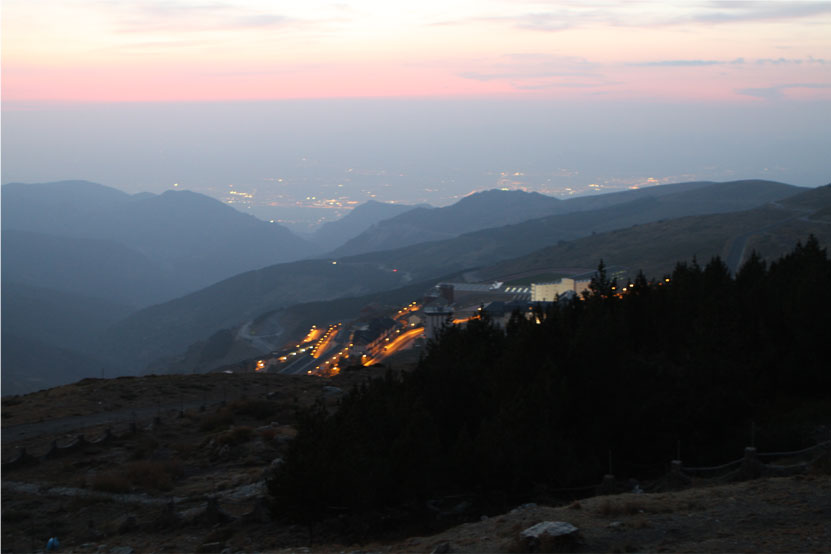 Arrival on a Thursday into Malaga airport; shuttle up to Sierra Nevada Ski Station at 2800ms.

Skis on – play on the slopes Thursday and Friday – lift passes are included in the package.

Ski Out/ Ski In – our base uniquely includes skiing out and in – after a hardy buffet breakfast your first run is straight from the door down to the resort some 500ms below. While at the end of the day jump on the Veleta chairlift up to 3300ms for a fantastic traversing descent back to our hotel.

The main event: Saturday am its up to 3400ms whereupon we will OFF-PISTE down the south face of the Sierra Nevadas – Spains highest mountain range.
Guided by expert fully qualified Spanish guides and a Switchbacks representative, there are a wide variety and level of runs to follow down the face coded from Blue to Black.

Mountain bike time – a 4×4 jeep will be waiting for you on the south face with all your mtbing kit, bike and lunch. Quick change then its singletrack descending from the snow all the way down to the beach for cold beers and dinner!

Shuttle back up to our 3-star hotel Enduro base in Bubion.

A truly unforgettable experience taking in as much as 75kms distance and 4000ms of vertical descent.

More singletracking in around our famous Enduro location in the quaint village of Bubion located at 1300ms.

Shuttle back to Malaga airport for flights home.
What's included
Swithcbacks BnB can supply you with EVERYTHING that you will require for the weekend:
Skis, boots, helmets, accommodation, breakfast and dinner.
Enduro MTB: 6" fully suspension mtb, and all kit minus helmets and shoes.
3-star hotel accommodation, breakfast and dinner.
You can simply jump on the plane with carry-on luggage and we'll take care of the rest.
Or of course you can either fly with your bike or you skis or both.
What you need
Our base at Sierra Nevada Ski Station is the Albergue Universidad located at 2800ms. A very comfortable hotel/ hostal equipped with bar, restaurant, wifi, very warm and snug. You will require any and all regular skiing gear (base layers, jacket, out-shells, gloves etc) that you would use at any skiing destination.
You can choose the option of renting all other skiing gear from the hotel: boots, skis, helmet, googles.
Bubion Enduro MTB you'll need your cycling kit, shoes, helmet we can provide everything else including spares, tools, pumps etc.
We have a wide variety of 6″ full suspension enduro bikes for hire.
Insurance covering you for extreme activities including skiing and mtbing. SnowCard seems to be very popular with our customers.
If a European Citizen then your EHIC will also be required.
Costs
PRICE

PRICE FOR RETURNERS AND GROUPS OF 5 and MORE

795€

730€