MTB coaching Malaga Enduro
COACHING AND SKILLS DEVELOPMENT
Mountain bike coaching is the best way to improve your riding skills and your confidence. And one of the best things about an Enduro holiday is that we can ride several tracks again and again.
With the aid of your guide you can tackle harder and harder obstacles. By stopping to look at lines, studying breaking points or suspension set-ups etc, your confidence and knowledge will grow day by day. Please note that the riding in Malaga requires you to have at least a few years of riding experience and to be comfortable on a minimum of red level tracks.
Prices
Coaching week -> €1199 – Riding with a maximum of 5 riders of the same level
Coaching long week end -> €899 – Riding with a maximum of 5 riders of the same level
Coaching day -> 99€ – Riding with a maximum of 5 riders of the same level
We'll get you from zero to hero in only a few days. We'll take time to coach you on every aspect of riding. We'll help you setup your bike and suspensions, and get you to ride trails and features you'd never thought possible. 
Get a few years worth of improvements in only a few days, come and get coached! 
Mountain bike coaching, why?
Repetition. Everyone knows the first run shows up many obstacles that look beyond a riders reach but with each passing run they tend to look more and more obtainable. Mountain bike coaching allows you to go through this process quicker and be assisted by a professional lessening the risk of injury and achieve success more quickly.
It means that on our Enduro holidays the very fact that you know what's coming up around the next bend means you can concentrate not on WHAT you are riding but instead HOW you are riding it.
This means improvement and confidence. Our guides will always be on hand to help with any fine tuning of this that you may require.
The varied mountain bike trails of Malaga will allow you to improve on a wide range of obstacles. From jumps (you can avoid these also) to steep rock chutes and tight corners, the riding terrain is extremely varied.  All our guides are trained mountain bike coaches and ex-professional MTB riders – you are in good hands.
Before you start your mountain bike Holidays in Spain with us, be sure to notify us which skills you wish to improve on. We will do our best to make sure you leave Malaga with some new tricks in your bag!
Check out our guide's profile to see what they can teach you!
Our Guides
All our guides are EX- pro or EWS racers. They've all ridden and raced at high level, and know everything there is to know about riding a MTB bike fast and controlled. Meet the team :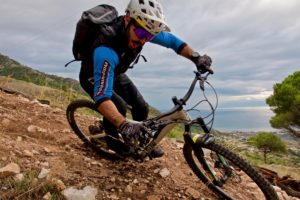 Ruben Garcia: Born and bred in Malaga, Ruben has raced numerous EWS rounds and knows the trails like the back of his hand. From jumps and whips to loose terrain and steep chutes, he'll teach you how to handle hard and dry conditions.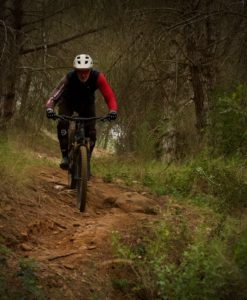 Michael Saunders : Ex Pro downhill racer, Michael has more than 35 years of experience on a bike. Founder of Switchbacks, he has coached hundreds of pilots and can transform the way you ride your bike.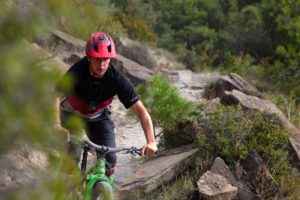 Charlie Coquillard : Ex downhill & EWS racer, Charlie has ridden on all 5 continents. From the steep slopes of Whistler to the gnar of the French Alps, he can teach you how to ´French corner´ and go fast when it gets steep.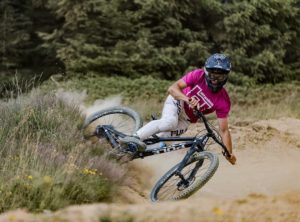 Blaise Wall : EWS racer and full time Pole Bicycles shredder spending his summers in Morzine, Blaise can handle a bike. Let Blaise teach you how to manual, jump, rip corners and commit to harder trails.
WHAT CAN WE SHOW YOU
Bike and suspension
set-up
Fine tuning your equipment for better handling and more efficient riding.
Balance
Body positioning on the bike while descending and jumping.
Cornering
From loose, high speed singletrack to switchbacks, berms, drops, etc.
The key here will be front brake control, correct foot positioning, line choice and shifting your weight over the bike.
Descending
Through steep and technical singletrack, rock gardens, drop offs, picking lines and correct sighting of the trail depending on conditions, braking and controlling speed, etc.