BLOG
MTB Winter training – How to keep fit this Winter
You know what's good about winter – bloody nothing! We finish every summer full of stoke and we tell ourselves we'll go hard on our MTB Winter training to keep in shape. Not to be a slug on 2 wheels when summer comes around again. 
We'll try to get you to hold onto that summer power, read this article and you'll be a bit closer from not being slow coming April. 
MTB Winter training – not at home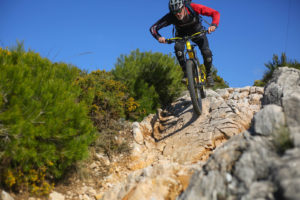 The best to train in Winter is to go somewhere where it's not winter. Ok, ok, not everyone can go to the sun every week end or even take weeks at the times to go overseas and ride. 1st you partner might get angry, 2nd, your banker might give you a ring.
If despite those 2 warnings, you still want to go out to some of the best places in the world to ride bikes this winter, you can click on the link, we've made a list for you -> Top 5 best Winter MTB riding destinations.
Be miserable, but not miserable alone.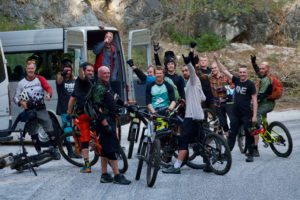 It' always easier to be covered in mud when your mate is covered in more mud. At the start of winter, create a What's app group with your most dedicated friends and keep each other engaged!
Friendly insults such as "looser" and "you're such a wuss" are allowed. Much easier to keep at it if riding in the mud is coupled with a good banter.
Make it short and intense, not long and sloppy.
No one wants to ride 5 hours in wet and cold conditions, risking to loose a few toes and the motivation to ever ride a bike again.
Rather than a long 50Km loop around your local, make a 25Km one, but blast it! Keep yourself in the red the whole time, up down, up down, flat sections on the big gears, don't let the cardio rest. That'll allow you to keep fit, increase your resistance to effort, and be back for lunch with your dear family.
Flat pedals win medals
I mean, Sam Hill is a living proof. If you're clipped in most of the year, nothing like a return to flat pedal this winter to sharpen your skills. Clipless pedal allow you to go faster, pull harder, jump higher, and compensate for your lack of skills ( I know it's hard to hear ). Returning to flats will make you realise how lazy you've been on your bike and will oblige you to correct this lazy style.
There is a whole forum dedicated to this topic on Singletrack magazine.
Front wheel off the ground
Can you pull a manual of wheelie for more than 10 meters? Well if you can't, winter is the perfect time to get training. Whenever you come across a fire road, a road, or anything remotely obstacle-less, put your bum behind the saddle and get cracking! Wheelieing is an essential skill to mountain biking, yet the vast majority of mountain bikers don't master it.
(And if you're still crap at it at the end of Winter, you can come and join one of our skills course, our instructors can pull 100m+ wheelies and tell you how to do it too, check out the video) -> MORE DETAILS HERE
MTB Winter training – Do it!
There is no doubt, it's harder to get out and ride in Winter. You have 3 solutions :
Get stoked, train with your mate, and stay motivated. (think about how much better you'll be compared to your non-winter riding mates next summer)
Go overseas and ride some dry trails. We can take care of that for you, CLICK HERE for more.
Drink beer on the couch and turn into a 2 wheeled slug before summer.
You know what to do, get your MTB Winter training program on and send it!